YOU ARE DUST AND TO DUST YOU SHALL RETURN
Relationships between Human Being-Nature-Gad-Land-Science
Politics, Economics, Aesthetics and Social issues,
Everything changes, it's depends of the circumstances
The TIME
I see it, I see the human being building and deconstructing his own space, trying to find a good relationship with nature but from his perspective, forgiving his own nature where he is from.
Dealing with his space and time, his habitat.
Walking and looking for his roots throw the streets, touching the pavement.
Building the boundaries of his home.
POLVO ERES Y EN POLVO TE CONVERTIRAS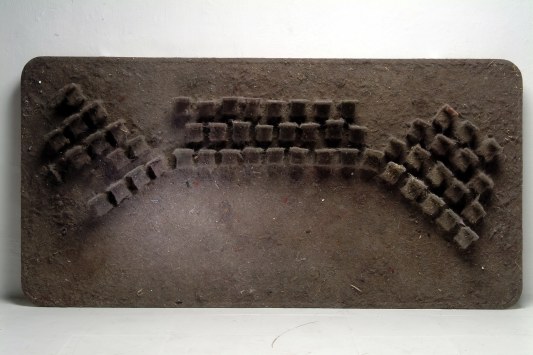 Reunion.2004. Vacumm cleaner dust , toy chairs, foldable table.
Detail.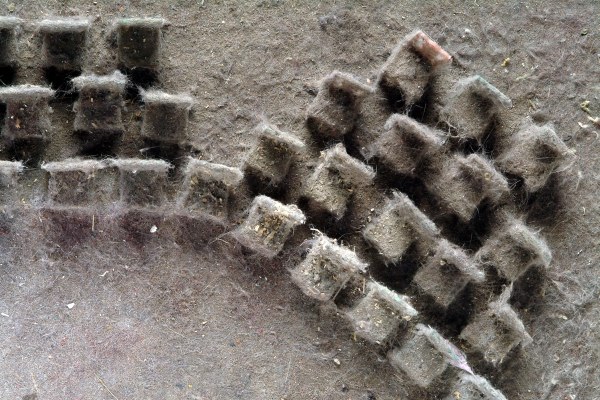 Mesa portátil, de esas para ir a picnic o comer en el patio, como para sentar a seis, para llevar a cualquier parte como una maleta. La mesa esta cubierta de polvo de aspiradora, tiene una serie de filas con sillas de casa de muñecas también cubiertas de polvo, son muchas sillas dispuestas como en auditorio, en una reunión donde se espera, se empieza y no se termina, se habla y nadie escucha, dialogo silencioso, dialogo al aire, a nadie pero con voces de muchos. Vista general área, vista de arriba, una reunión que se hace sobre la mesa para comer, es la mesa servida de todos y de nadie. Polvareda.
2005-Imagen de la obra en la coleccion del Museo de Antioquia.